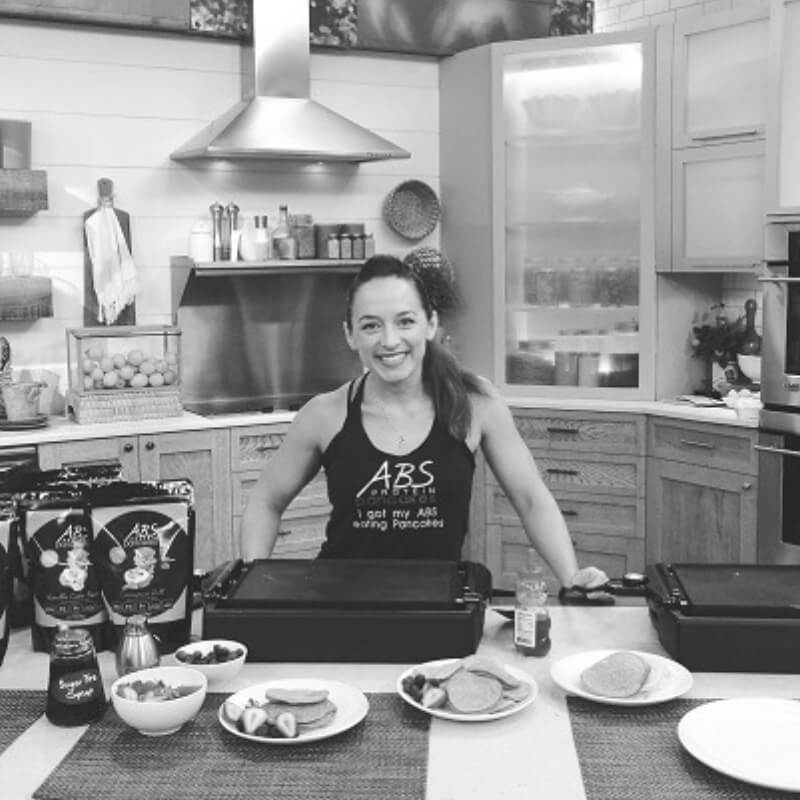 Are you sick of taking everyone else's opinion into consideration? Are you ready to listen to your intuition and start the business you've been dreaming about?
Ashley Drummonds appeared on Season 7 of Shark Tank as the CEO and founder of the low carb, high protein ABS Protein Pancakes. Ashley is also the host of ABS Fit Life TV which is a monthly subscription to on-demand dumbbell workouts for fat loss and overall strength training.
She has been featured on Shark Tank, HSN, ABC Action News, Oxygen Magazine, Forbes.com, HealthPreneur Podcast, Critical Bench, and so much more!
Ashley is also the host of the ABS Life Podcast that produces weekly shows sharing tips, tools and stories about fitness, business and life to help you create a body, business and life you love!  Ashley is double-certified by the National Academy of Sports Medicine with over 10+ years in the fitness industry helping people get in the best shape of their life. She has a Bachelor's degree in Business Management from Liberty University.
Last, but not least, as a wine lover, Ashley is also WSET Level 3 Certified Sommelier and shares her love of wine through wine education and wine consulting.
Fitness, business & wine are her passions along with helping others create an authentic life!
Can you imagine paying five figures for a coaching program only to be told that the idea you came up with wasn't any good? That's why you need to learn to trust your gut and follow through with your own ideas! Read THIS BLOG POST to learn more!                                  
Here are a few key secrets we talked about in this episode:
Michelle introduces Ashley Drummonds.

Ashley shares how she was inspired to start ABS protein pancakes.

By meeting her own personal needs, Ashley was inspired to start a business and meet that same need for others.

Ashley invested five figures into a business coach, trying to learn everything that she could to run her business.

When Ashley had the idea for ABS protein pancakes, she went to him for connections and advice and he told her that she would fail.

This person was someone that Ashley was relying on and looking up to and was supposed to believe in her. He basically temporarily convinced her to not run with her pancake business idea.

Devastated, Ashley turned to friends and family for validation.

"When we're faced with decisions in life we tend to seek outside opinions because we were fearful. We're scared because if we solely go with our own gut intuition and it fails then we feel like somehow we have failed." ~ Ashley Drummonds

Nobody can tell you what to do because they haven't been in your shoes. They don't know what ideas are coming up for you. They don't know the path or the process. All they can do is provide you with information from what they've done in their own lives.

"People think that you go on Shark Tank, your episode airs, they see you get a deal or you don't get a deal on there. People think it's all rainbows and sprinkles and that your business is just set, that you never have to work again in your life. The reality is that it is vastly different than that." ~ Ashley Drummonds

After her Shark Tank episode aired, Ashley found herself looking for partners.

She initiated a conversation with Weight Watchers because they aligned with her values, and they asked her to put together a custom product for them with specific macronutrients.

"It was more nerve-wracking for me to sit in front of the board of Weight Watchers Executives than it was for me to go on Shark Tank." ~ Ashley Drummonds

After Ashley put together a custom Weight Watchers product, she didn't hear back from them until 7 months later. She got a message saying that they had "decided to go another direction."

Ashley set aside her business to refocus and go on her own "Eat, Pray, Love" journey.

As she did, she found herself going back to her core desires of helping people; instead of chasing illusions of what would make her business a success, she went back to the heart of what she wanted to do with her product.

Ashley shares one thing that she would share with her younger self.
Connect with Ashley Drummonds:
If you loved this episode please consider sharing it with a friend! And, we'd love it if you wrote us a 5 Star review on iTunes and subscribed to the show!
P.S. If you rely on others for validation of your ideas, then it's time to take a step back and listen to your intuition! Have you ever wondered how to do that? Read THIS BLOG POST for the answer!