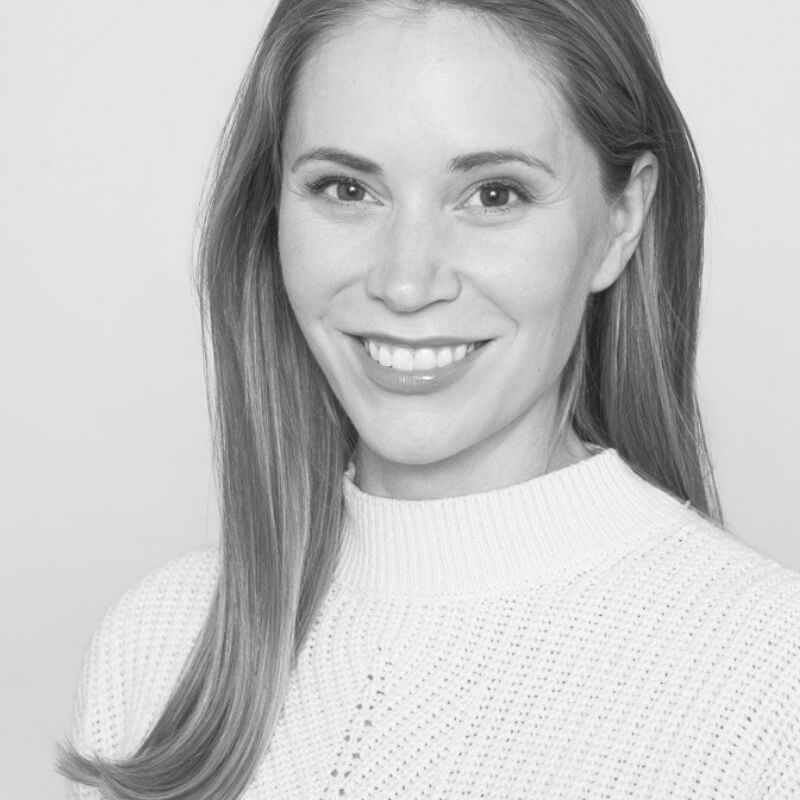 Did you know that the decision making in business usually falls to one KEY person? And, in order to get to that person you have to prove your worth?
Blair Fletcher Hardy is the co-founder and Head of Brand for Pop & Bottle, the wellness-first coffee brand known for its organic, dairy-free lattes with no refined sugar or junky extras. With more than ten years of experience in branding and design, Blair spearheads Pop & Bottle's visual team and helps to design the product packaging, create brand assets, and manage the brand's overall aesthetic. While in London completing a year of study at the University of the Arts London learning the core tenants of branding and design, Blair became fast friends with fellow co-founder Jash Mehta. Fast forward a few years later, Blair relocated to the Bay Area. Blair reconnected with Jash and the two bonded over their love of San Francisco's farm-to-table food culture and, of course, coffee. The two females founded Pop & Bottle in 2014 with a broader commitment to provide clean, plant-based beverages that are meant to elevate the everyday.
The gatekeeper is one of the most important business relationships that you can develop. Of course it's important to connect with your ideal client, and those who are going to help you increase your top line revenue, but learning how to win over a gatekeeper is a game changer. 
The gatekeeper is that magical person who has the power to connect you to the right person who does the decision making in business. But have you been able to win over that protector? This podcast will help!
Do you know who does the decision making in business?  In THIS BLOG POST, I'm sharing some tips and tricks on how you can win over your gatekeeper, so that you can get to the resolution that REALLY matters!
Here are a few key secrets we talked about in this episode:
Michelle introduces Blair Fletcher Hardy.

Blair and her business partner had no experience in the food industry, so they found themselves facing a lot of NO's!

"There's a host of reasons people give you for not believing in you and your concept." ~ Blair Fletcher Hardy

Sales is a numbers game: you're not going to reach out to 10 people and automatically have 10 investors.

Learn from feedback: every NO is a learning opportunity.

You will become more confident with your product and your story as you continue pitching.

Got a fund-raising goal? Double the amount of time that you think it will take to raise that amount of money.

Reach out to fellow entrepreneurs. As you share your stories with them, you'll hear how they have gone through similar experiences.

Surround yourself with others who are like-minded. Many entrepreneurs have learned to wear their failures like a badge of honor.

"There is no growth without failure." ~ Blair Fletcher Hardy

Blair made their own original branding for Pop and Bottle, and was told NO that it didn't look like a product that would be in a grocery store; that it looked like a perfume bottle.

"Trust yourself and lean into what makes you unique." ~ Blair Fletcher Hardy

Don't be afraid to marinate in your rejection, and learn from it.

If you're new to the entrepreneur world, learn how to take NO, learn from it, and not let it completely define you. Just because one person says NO doesn't mean it is bad.

Blair learned that their gatekeeper was not their ideal client. Instead of an almond milk latte, that person preferred soda. 

Instead of reaching their gatekeeper with their business mission, Blair and her business partner had to create case studies to show that their product would be a success.

Data is key when it comes to working with a gatekeeper who is not your ideal client.

Blair shares what she would tell her younger self.
Connect with Blair Fletcher Hardy:
If you loved this episode please consider sharing it with a friend! And, we'd love it if you wrote us a 5 Star review on iTunes and subscribed to the show!
Decision making in business isn't done by just anyone… Usually you have to get in front of that key player! If you're ready to  get the best results for your business when it comes to meeting with a gatekeeper, THIS BLOG POST will show you how!