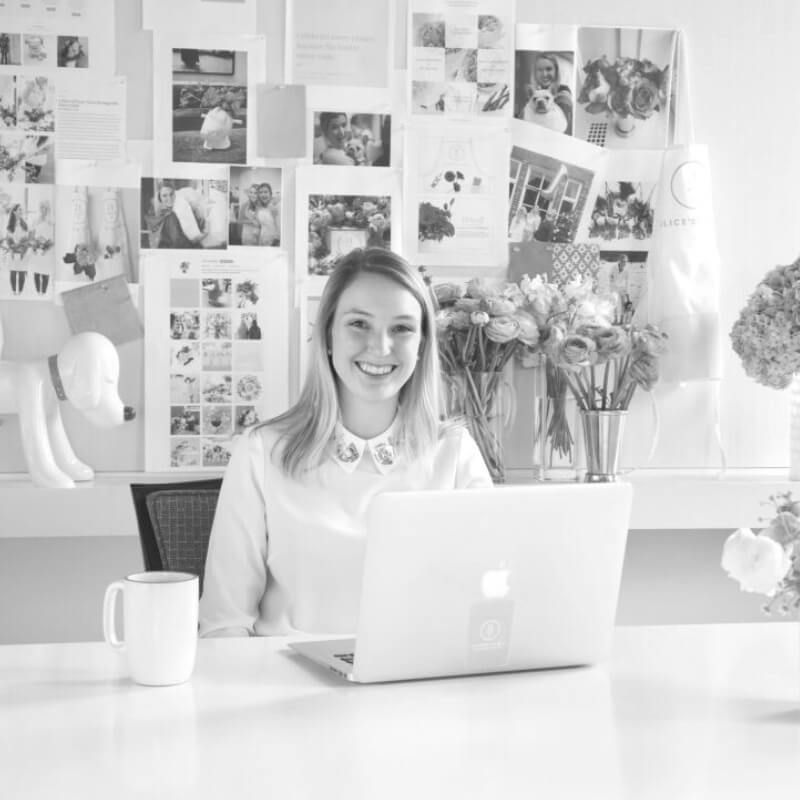 Have you ever been fired? If so, it may just be the best sales strategy that you've ever experienced. 
Alice Lewis, fine art enthusiast turned floral expert, CEO, and entrepreneurial architect has introduced the nation to a beautiful dose of floral-infused, curated maker events and a modern day take on entrepreneurial endeavors. In 2015, she introduced the lifestyle company Alice's Table and the Alice's Table Event Exec program with the mission to empower women to start their own creative businesses and give them the tools, knowledge and community they need to be successful. By building a community that prioritizes living well and working hard – the possibilities are endless. Alice has been featured on Shark Tank, LIVE with Kelly & Ryan, The Everygirl, Create & Cultivate, among other accolades. She has secured top investors including Mark Cuban, owner of the Dallas Mavericks and Sara Blakely, Founder of Spanx, to help bring the Alice's Table mission into reality.
Want to learn how being fired might actually be a great sales technique?! I've spilled my secrets in THIS BLOG POST!                                      
Here are a few key secrets we talked about in this episode:
Michelle introduces Alice Lewis.

Alice founded Alice's Table, a company purposed with helping female entrepreneurs looking for a flexible business connect with each other.

The fear of NO is worse than actually hearing NO. Protecting yourself from NO does not make it any better or easier to hear.

Changing your mindset helps offset the pain of the NO.

For every five NO's you'll hear a YES: turn it into a game, and then hearing NO starts to become fun!

"As an entrepreneur, your job is to be introspective. You are not a good founder or CEO unless you can take a hard look at yourself in the mirror. If you are the problem, you need to also be the solution." ~ Alice Lewis

Do you spend time spinning your wheels or dancing around a NO? Cut to the chase and make it happen! 

When building a team, your first hire can be scary because you're intimidated, and you can easily lose the best candidate from fear.

Alice had her idea for her own business but was working at another startup company as one of their two employees. However, it was not a good fit and she was fired!

Being fired brings up personal questions, but when you know that you're capable, that mindset will help you get through it.

"Looking back, being fired was the best NO that happened in my life." ~ Alice Lewis

You'll have to get used to that pit in your stomach.

Alice found ways to keep herself going and keep the lights on.  

"If you really care about your passion enough, don't be afraid to find the scrappy things. It's what I had to do to start the business that I wanted to start." ~ Alice Lewis

When you're the CEO, you need to find a network to support you. That is a scary role, with hundreds of people looking to you for leadership and to be accountable!

Have someone you can talk to about business. That's critical!

Make sure to catch the small fires when they start so three months later you're not looking at a giant mess.

"Not ignoring the scary things is important." ~ Alice Lewis

Use "think time" to be strategic in introspecting about your business. Alice takes several hours a week to self-evaluate.

Alice shares about her Shark Tank experience. It all started when she had filled out the form as something potential to do, but hadn't expected to get picked.

Make sure that you have your core business needs at heart: when you have to do hard things like fire someone, it helps you make the right decision.

Don't be afraid to turn away an investor whose check is too small.

It's ok when you don't have the answers! Live in the unknown, take action, and you will see a shift.

Alice shares what she would tell her younger self.
Connect with Alice Lewis:
If you loved this episode please consider sharing it with a friend! And, we'd love it if you wrote us a 5 Star review on iTunes and subscribed to the show!
P.S. We've all been fired or laid off. It sucks! But it doesn't have to be a bad thing. In THIS BLOG POST, I'm going to show you why getting fired can be the best sales strategy.