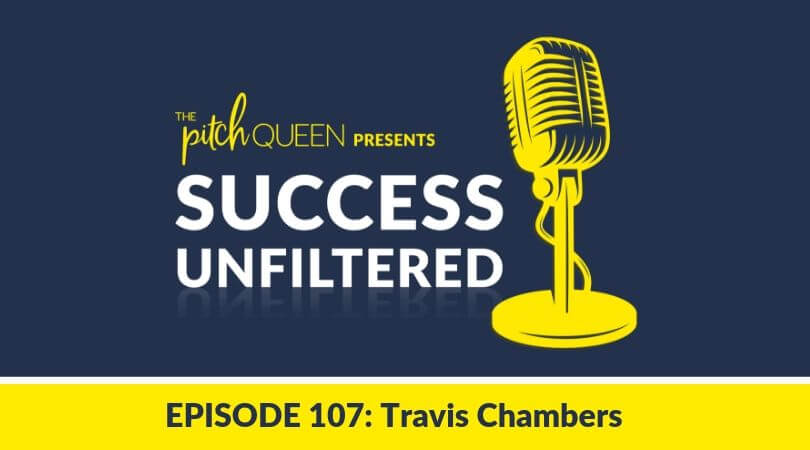 What is at the core of every pitch that you offer? Your customer! It's important to embrace the mindset of selling service! When you work with clients, they and how you serve them should be front of mind!
When I am on the phone with clients, or if I am interviewing someone for this podcast – that's serving. Even in college, I started my career of serving, when I worked as a cocktail waitress.
That's all service for your client or customer. Service in my world is another word for sales.
When times get tough, it will help you to remember what is at the core of everything you do. It's all about serving your clients. That change in mindset will help you persevere through any NO you come across.
Travis Chambers, a guest on the Success Unfiltered Podcast, creates high-end video sales funnels for major brands, many of which have gone viral. He has heard quite a few NOs in his career, but they have helped direct him to the core of his business: serving.
A Pivotal NO
Through the power of social media and strategic LinkedIn marketing, Travis Chambers got a meeting with the Ring doorbell team. They were interested in learning more about what he did, and how he and his team could help them.
As he presented their offerings, Travis could feel the skepticism in the room. In the end, they didn't even hesitate to say NO.
"We're not sure about the results you're saying you can get for us," they said, in their NO.
After the first few disappointing days after hearing NO, Travis decided to evaluate why they said NO, and to his surprise, he found that they had some good points.
After all, there were some results that he could guarantee, based on their ad spend. But they weren't confident that he could create a viral video.
Travis had done created a viral video before; creating a viral video for Turkish Airlines that had more than 140 million views.
But, Ring argued, they weren't sure that he could replicate those results for them. After all, he'd had star power on that video. Kobe Bryant and Lionel Messi had starred in that viral video.
There were certain things that he could guarantee and prove, but there were so many areas of his business that were still ambiguous to the client.
At the same time as that major NO came his way, another campaign was succeeding.
A Nordic Track campaign was gaining traction. A video of 50 people dancing while working out was going viral. The agency had recruited influencers, and professional dancers to create a fun video, and it sparked a movement of people using fitness equipment as a place to dance. This video brought a lot of attention, including an invitation to join Dancing with the Stars. The company was seeing an actionable increase in sales as a result of the campaign.
Travis and his team took that successful campaign and created a case study that they could give to new clients, to help show what they could specifically do to serve them in their business, helping future clients achieve measurable results.
Without the NO from Ring, Travis and his team would not have been pushed to create case studies for new clients, better highlighting their service, and ultimately selling service at all times.
Testing Commitment Levels
High-level sales offerings often take more time to close the sale because a pivotal factor is that the client knows, likes, and trusts you, and that is built through relationships.
As Travis and his team embraced that, they found that some clients would test them just a bit to see how committed they were to a project.
They flew out to one location to meet with a company; an eight-hour flight each way. They presented their plan, got a verbal commitment, and were ready to get started. This million dollar project was one of their biggest to date.
Travis and his team cleared their calendars, but then didn't hear back from the client for a week.
"Can you come out here for some more meetings," they asked. The prospect then said, "That's too much money. We want to work out a few more things with the budget."
At that point, the team was frustrated. Even if the client only delivered a quarter of their previous estimates, it would still be a good job, bringing in $250,000 of revenue, but the team lamented some of the major goals and dreams they had for the project.
The team decided to get back on a plane and went back for another meeting, and at the end of the meeting, the client said, "let's do the whole thing."
When they looked into what had been missing the first time, it seemed that a few financial key decision makers had not been present at the beginning, and getting to come and meet the team built that trust factor they needed.
The team presented from a perspective of service and were able to land the sale and have a new client on their roster.
Changing Your Mindset
A mindset change doesn't just happen.
It's the result of experience, and a willingness to let go of expectations in order to make a change. When Travis shifted his outlook to change to be one of service rather than one of selling, after his experiences, everything changed in his business.
"You just have to persevere with your client because we're servants," says Travis. Remember, you are always selling service. We need to act as servants to our clients and customers, or at least have that type of mindset.
Embracing a service mindset and using service selling techniques in your business will impact you, especially when times get tough.
"Optimism, positivity, and hope are a sales person's best friends," says Travis. "I spent so much time worrying and having anxiety about whether or not things were going to work out. And the truth is, they're either going to work out or they are not. You know it's not worth worrying about it; it's wasted energy."
In Conclusion
Travis found that when he really evaluated the NOs that he heard, and changed his mindset to be one of finding how he could serve his clients, his approach to business changed, and his business continued to grow.
How can you change up your approach to your clients, to approach them and their needs with service at the forefront of what you do? Tell me in the comments!