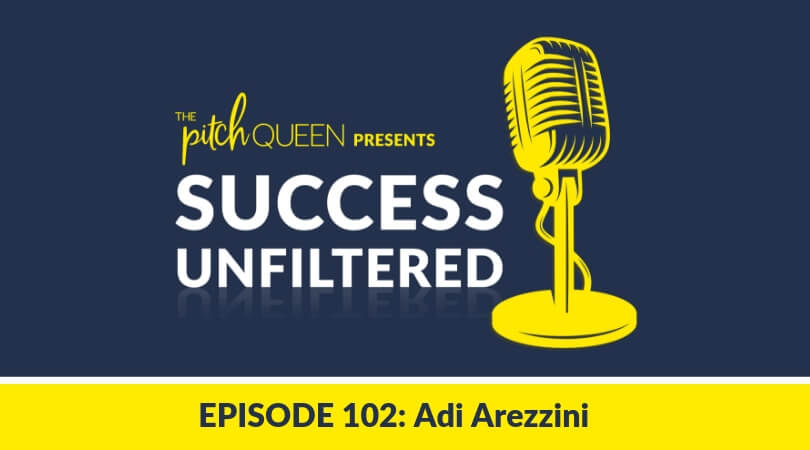 Have you ever stopped to consider how overcoming obstacles in sales can actually help lead your business to success?
When you're faced with sales obstacles do you lean into them, or do you run away from them, so you don't have to deal with them?
Sometimes, the world of entrepreneurship can feel like a football game (but without concussions, although a NO can definitely hurt!).
As entrepreneurs, we often find ourselves to be the "running back" of our business. We hold our business in our hands, and it's our job to push past the sales obstacles of the day for the long term vision.
Playing mental sales and business games can be exhausting.
Entrepreneurs need to be able to keep our heads down, focused on the end game. They need to lean into those challenges and work through them, for the sake of being able to move on to the end goal.
When I still had FITzee Foods, we got caught up in the day to day obstacles! FITzee Foods everywhere, in stores, online & had a retail store of our own! When I started the business, there were minimal healthy pre-packaged foods companies in the area, and when we closed, there were hundreds. Everything changed so fast!
I learned at that time how to be a running back, and how I'm the number one running back! I've learned to push past all sales obstacles for the long term success game.
A guest on the Success Unfiltered Podcast, Adi Arezzini, had to learn to lean in and keep her focus on her long term business and sales goals when the social media algorithm changes made her sales drop by 50%.
From Pantsuit to Digital Marketing
Adi created an herbal tea company, Teami, to treat her health problems. After her return from serving in the Israeli Army, her digestive system failed her, and she simply couldn't poop.
Well, she couldn't poop more than once a week, leaving her bloated, constipated and very uncomfortable.
Adi created a wellness tea to help treat her ailments, and found success!
One of Adi's friends urged her to go sell the tea at local stores.
"Go to Whole Foods, and Sprouts," he said. "It'll be easy."
Adi went and bought a pantsuit, packed a basket of samples of her products, and went to the stores.
She'd speak to the manager, pitch her product, and then get brushed off.
They simply weren't interested in her products. The pricing was too much, they'd say. No one will pay $50 for tea when there are other kinds of tea for only $5.
Undefeated, Adi decided to pursue digital marketing. NO one would tell her NO anymore – she would attract her ideal client through social media!
Leaning Into the Algorithms
Teami grew quickly for the first few years. They partnered with YouTubers, Instagram influencers, and celebrities. Sales numbers steadily grew, as did profits.
That all came to a halt in April 2016, when the Instagram algorithm changed.
Digital marketers remember that day. Instead of showing new posts in chronological order, based on the time of posting, an algorithm determined the order in which photos would appear.
Sales dropped dramatically when the algorithm changed. In fact, they dropped by 50%. Advertising dollars no longer brought in the same revenue. When they had previously brought in $5 in sales for every one dollar in ad spend, now each dollar only brought in only $2 in sales.
Paralyzed, Adi stopped spending advertising money. The company continued to spiral.
"That was a mistake," she recounts. "We got timid and scared, instead of leaning in" to all of those sales challenges.
Adi led the executives to meet and decided it was time to change how they looked at their roles.
Breaking down the roles into niches allowed them to see exactly how each segment was performing.
Each worker took a segment, and they became experts in their field. One Teami worker would collaborate with celebrities, another would work with YouTubers. They were then able to collect data and see the numbers and break down exactly what was working, and what wasn't working, so the company could improve.
Once the team leaned into their skills and abilities and focused, they were able to overcome the algorithms and bring the sales up again.
By taking a granular approach, and analyzing data, they were able to see the numbers, adjust when needed, and increase sales.
The climb was slow, but the company grew again. 2018 numbers rose 40% over 2017 numbers, and now Teami is a multi-million dollar company.
Business is a Long-term Commitment
When looking at her business with a long term perspective, Adi laughs at the algorithm issues.
Not because it's funny, of course. She laughs because it was such a small piece of the big picture.
"A business is such a huge investment," she says. "It's a long term commitment, 20, 30, even 50 years."
It's important to remember that a business will not uptrend forever, she shares. "It's ok to say that 2016 was a shitty year."
Every business, no matter how big or small will have its ups and downs.
It's the ability to lean in and make it through the hurdles that determine success.
"Watch where you're going, and look forward," Adi advises. "I still go through tough times; it's what I signed up for."
Those hard times, when sales numbers drop and algorithms change are just a part of the business.
Adi's learned that leaning into them and turning these obstacles into strengths is a factor for long-term success and overcoming sales obstacles.
In Conclusion
Adi experienced massive short-term changes in her business that negatively impacted her top line revenue. It's during times like this that you'll find who is ready to be a running back, and push through business obstacles. You also will learn who isn't ready to face them, and who will leave the world of entrepreneurship.
No matter where you are in your business, you will come across obstacles in sales. Are you a running back, or are you in the bleachers watching the game? If you're a running back, how do you push past the difficulties and obstacles in sales to find success? Tell me in the comments!