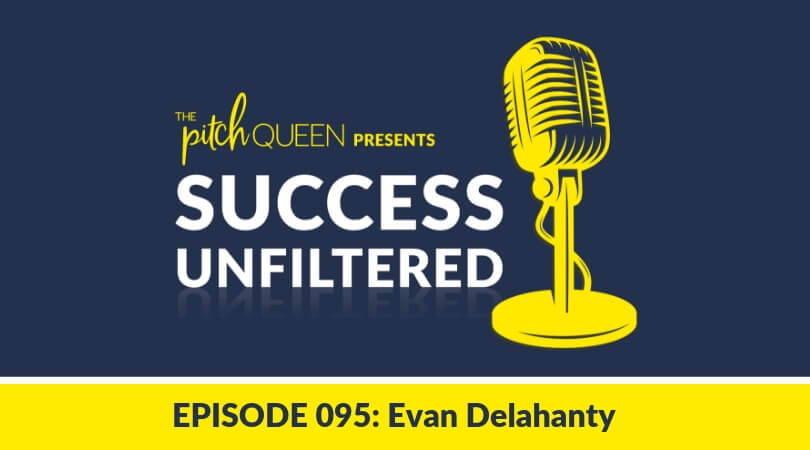 How many times do you ask before you find another option? 10 times? 100 times?
Would you believe that sometimes, it even takes 180 times, and the answer might still be a NO?
That's what happened with a guest on the Success Unfiltered Podcast – Evan Delahanty. He was searching for a manufacturer for his fruit snacks, and couldn't find anyone who was willing to invest in his small business.
And all he kept hearing was NO! In fact, he still has his spreadsheet of 180 manufacturers that he called, looking for someone who would say YES!
I completely understood what Evan was talking about in this interview, from my experience with FITzee Foods!
I know I talk about it a lot, but I learned so much during my time with FITzee Foods. "Simple" tasks like getting FITzee Foods in the Vitamin Shoppe was a lot of work. Like Evan, I heard a lot of NOs. I had to find a manufacturer willing to co-package small batches of a lot of SKUs, 20-30 different items. And I even had to invest my own money (which I borrowed from my 401k) into paying for a deposit to the manufacturer; putting that money into an escrow account.
Many entrepreneurs do the manufacturing OR marketing – and then some do both.
For anyone who's trying to do both sides of the business, the manufacturing and the sales for a product, it's hard to find a balance. It's like a kid on a see-saw – you remember playing on see-saws? You're either up, or you're down: it's HARD to achieve that balance in the middle.
It's important to remember that you don't just sell your product, you sell you!
People say YES to you. You prove that you're worth the YES, because, at the end of the day, people buy from people.
Evan Delahanty found a way to create a YES even when he kept hearing NO.
Telling the Story of Peaceful Fruits
When Evan came back from serving in the Peace Corps in the Amazon, he knew that he wanted to share something from his experience with his friends and family – and well, anyone who would try it. He was excited to bring the Amazon to his hometown of Akron, Ohio.
From there, Peaceful Fruits was born. Made from ethically sourced fruit, with no extra ingredients, Peaceful Fruits was bound to be a hit.
But Evan only heard NO from manufacturers. They were unable to take the risk for such a small run. He called 180 different manufacturers, searching for anyone who would say YES to him.
Evan eventually had to make his own YES.
He found a local organic restaurant that would let him use their kitchen when they were closed – so that meant Evan would be working at 2 a.m., making Peaceful Fruits.
He did his own market research. Evan would take a plastic bag of the snacks everywhere he went. While working at a CSA, he'd ask people if they would pay money for the snacks. It was one of those people who gave Evan a very important YES.
A.J., who would become one of the first employees, loved the fruit snacks. A.J. and his mom, Peggy, who had traveled through South America, connected with Evan's story of his time in the Amazon.
"A.J. is a great sticker-er," Peggy informed Evan. When you're ready to package and sell these, A.J. would love to work for you!"
Six months later, Evan called A.J., and that's how Evan found one of his greatest assets: his team.
Now, more than 29 developmentally disabled people work on his team, earning fair wages, helping tell the Peaceful Fruits story.
Learning and Finding the Peaceful Fruits Target Market
Even as Evan made his own YES, he found that being a do-it-all entrepreneur came with some tough NOs.
After appearing on Shark Tank, grocery stores began to reach out to Evan, including some local stores.
Since the team was small, Evan often was at the stores himself, demonstrating the products, handing out samples and asking for the sale.
He often heard NO, for many reasons. The snacks didn't have enough sugar; some people didn't like the taste. A grandma once spit out the sample, calling it crap.
"That hurt," Evan recalled, laughing. That taught him, though that often the people who say NO aren't the ones you are wanting to say YES. She wasn't even his target demographic!
Other people didn't realize they were saying NO: they didn't even see the product available because the store hadn't put up the displays that Evan had sent.
Even if the store was a perfect fit for the Peaceful Fruits product, Evan had to work hard to make sure that people saw the product – in fact, he's still working on finding that perfect solution.
Evan found that creative marketing and leaning on his support team helped lead to a better YES.
In Conclusion
Evan found that he heard a lot of NOs, and he was stubborn! Although it meant that he had to "wear all the hats," Evan was ready to bring his product to the market.
When it comes to your product, you can work on that see-saw balance, or you can pay someone else to do the manufacturing for you. Either way, you will be doing a lot of sacrifice and work, but saying YES to your dream is so worth it!
How many times have you heard NO lately? Have you followed in Evan's footsteps and called 180 manufacturers? 180 clients? 180 buyers? 180 investors?  What's the most number of NOs you've ever heard before you heard a YES?