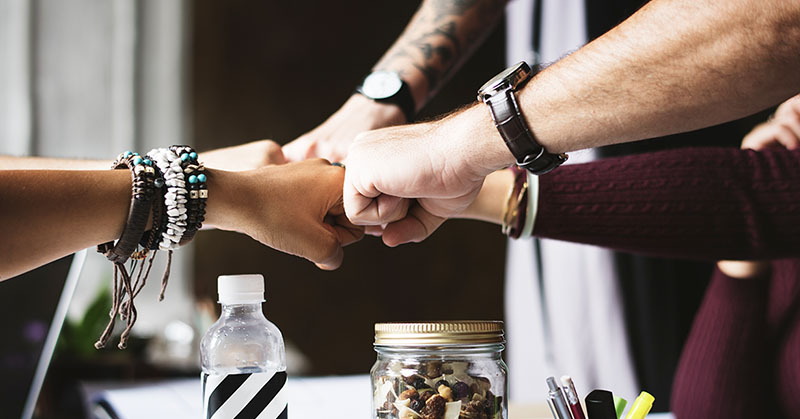 You've built your business from the ground up and now you're ready to build your team.
From the day your idea was born to the moment you made your first sale, it's been ALL you, all on your own. Your hard work is finally paying off. Your client base is growing, and your revenue is soaring.
The not-so-good news is that you're also mind-blowingly overwhelmed. Somehow, this business that you've created has morphed into a JOB, with you as the CEO, the CFO, and the only employee.
It's that moment when it's time to stop navigating the ship alone. And that means bringing in someone to help you.
I know, it's a daunting prospect at first. Your business is your baby, and it's hard to hand it off in any way to a stranger. But there comes the point where if you want to keep growing, you just can't do it all anymore. Delegation needs to become your new best friend.
But just like finding reliable friends, finding the right people to help you uplevel your business can be challenging. Choose the right ones, and you'll have a legitimate chance at expanding your dream. Choose the wrong ones, and your business could become a nightmare.
But if you choose wisely based on a solid plan for growth, putting the right team together can explode your productivity, your impact, and your revenue.
How do you know you just can't do it on your own anymore, and it's time for some help? One way is that if you're receiving a number of inquiries and leads that you can't keep up with in addition to your daily operations. When you're maxed out in any area of your business and other parts of it are suffering, it's a good indication an assistant or a full time sales person might be in order.
But where do you start? What needs to happen before you hire someone? How do you get your selection process down to a science? And how do YOU become the leader that your team will need to move your business forward?
Let's break all that down right here, starting with laying the groundwork to start recruiting the top draft picks.
Get Your House In Order First. What do you need to know before you bring someone on board? Not every business has the same needs, so it's crucial to consider what you need before you start writing up your want-ad. Go over each of these questions to set a solid foundation for your new team.
What do you want and need the most? The key is to spend the majority of your time doing what you do best in your business, and outsourcing the parts that distract you from your zone of genius. Consider what you love to do, focus on where your genius lies, consider what you don't have time for, and decide what you wish to hand off to someone else. That is the person you'll want to hire.
Do you have a clear plan to bring someone on board? As a solopreneur, what systems do you have in place for daily operations? If you had to show someone the ropes and train them to help you, what would you tell them? Make sure that you have an outline of processes from A to Z so that you can plug someone new into your system without getting lost yourself.
What is your team worth to you? This relates to question number one. You know what you need, be it a salesperson or an administrative assistant. Now it's time to decide how much you're willing to pay. Consider that person's responsibilities and the potential value they could bring to your business, then set a compensation plan that feels right to you.
Do you have your administrative tools in place? I'm talking about customer relationship management tools like Salesforce or InfusionSoft. They could also be project-based apps like Trello or Asana that you use to keep your tasks on track. After all, you've got to know how you want things done before you can teach your ways to anyone else. So have your tools in place.
Are you willing to hire slow and fire fast? It can take time to find the right team members. Finding the right salespeople sometimes requires even more patience. Don't be hasty when you hire. Take the time to find the right person. And if a new hire turns out to be a lemon early on, don't wait to let them go. Hire slow and fire FAST!
Drafting The Dream Team. Now let's get down to the good stuff. What kind of a team do you want to put together? What are the non-negotiables, the deal-breakers, and the red flags? In my experience, it's crucial to be sure that any team member is a YES in all of the following categories before they get an offer. What is on my must list?
Do they align with your goals, your mission, and your values? If you're going to make someone a part of your business, matching up in the core ways is crucial. Make sure that this person shares your vision, values, and goals. Just like in a friendship or dating situation, if someone doesn't vibe with your mission, it's probably best to part ways.
Do they have a passion for selling and service? No matter what you're hiring someone to do, make sure that they have a love for it. Especially if you're hiring a salesperson. Because when you sell & serve effectively, that's when you start changing lives. It's necessary to have someone that brings their passion for selling and service just as much as you would.
Do they understand and believe in what you're selling? Your mission is everything. And your purpose is what you're selling. So anyone you hire should be 100% clear on and passionate about your products and services, especially the salespeople.
Do they have the solid stats? If you're hiring a salesperson, what do their stats look like? Look at their conversion rates and closing percentages. How do they do with cold leads and warm leads? Have they had success with other companies?
Do they have the dependability factor? It sounds obvious, but never underestimate the importance of a reliable team member. How do you know if someone you're considering is going to fit the bill? There are different ways you can test the waters with someone. Do they show up when they say they will? When you ask them to complete any pre or post interview assignments, does that person turn them in on time? Make sure you're hiring someone committed enough to show up before you make an offer.
Do they provide references? Finally, make sure they're the real deal by asking for references. And of course, taking the time to check them. I suggest a few professional references and one personal reference.
Become The Leader That You'd Want To Follow. You might not think of it this way, but from the moment you hire your first virtual administrative assistant, you become a team leader. That means a new role for you as well as for the person you've employed. How can you ensure that you are stepping up into the part and giving back to your team as much as they're giving to you?
Create communication through a "metric system." When someone is working with you, they're going to want feedback. I suggest creating a set of metrics to give your team members feedback as well as keep communication open. Establish a system, let your team know how you plan to use it, and put the plan into action.
Help Them Help YOU. As a team leader, you can't just train them once and expect them to take it all from there. You have to be there to provide guidance, feedback, and support. That means coaching your people, being there to answer questions and helping them curate their skills. It's the best way not only to show up as a leader but also to help them help YOU build your business.
Find out what drives your people. Everyone wants recognition for a job well done. And your people deserve a little something extra when they go all-out for the team. Maybe your people are motivated by money. It might be recognition or particular perks. Not everyone is driven by the same things, so take the time to learn about your team as people. Then figure out what incentives would inspire each one to go the extra mile for you.
[Looking for a way to personalize your incentives for each of your team members? Not everyone is motivated by the same thing! I've got a unique resource called the "Appreciation Equation" that'll help you nail down just how to reward everyone on your team. Click here to grab a copy!]
"Hiring people is like making friends. Pick good ones, and they'll enrich your life. Make bad choices, and they'll bring you down." ~ Jason Fried, TED speaker and author
Nobody grows a business alone. At the same time, though, you've got to choose your team carefully. A bad hire could potentially cost you time, money, and headaches. Don't lose sleep and sanity because you said YES to the wrong person.
So take your time. Be thoughtful in your preparations, stick to your standards, and choose wisely. And when you put the right team together, treat them like the all-star players that they are. Be the leader that inspires your players to bring their best for the common goal: changing more lives, increasing your impact, and growing your business.
Are you ready to start putting together a team that will grow your business without stress, headaches, or hassle? Click here for the "Building Your All-Star Team: A Guide To Hiring The RIGHT People To Skyrocket Your Business." Don't let a bad hire bring you down. Grab this FREE guide today!